In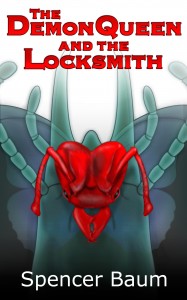 Turquoise, New Mexico, a group of hippies believe that the mountain north of town emits a constant, resonant hum that is only audible to a chosen few. They call themselves the Hearers, and the fact that fourteen-year-old Kevin Brown has never trusted them makes it all the worse when his own ears begin to ring, and he comes to realize "The Turquoise Hum" may be much more than a sound.
When people ask me which of my own novels is my favorite, I usually answer this one, not because it's the best, but because it's the most personal.
The Demon Queen and The Locksmith was my attempt to capture the magic of the books I loved the most when I was a kid.
Bug monsters, crazy conspiracies on the radio, dealing with bullies at school, learning that our parents are people too, all while having a crazy adventure with friends–this book is everything that I was into as a shy, awkward preteen.
Despite being a semi-finalist for the 2010 Amazon Breakthrough Novel Award, Demon Queen never really found its audience. But my nephew read it in one day when he was 10, and my daughter read it in two before-bed reading sessions when she was 9, and they both loved it, which instantly makes this book the most special to me of all the ones I've written.
It's an Amazon exclusive right now. If you're reading on an iPad or Android device, you can get this book by downloading the Kindle app.
"Ordinary teens become extraordinary in this thrilling tale of good versus evil…Skillfully written, this novel will captivate teens, including reluctant readers." –Publishers Weekly