In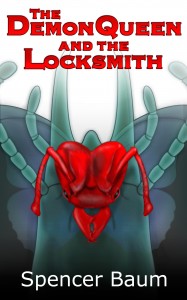 Turquoise, New Mexico, a group of hippies believe that the mountain north of town emits a constant, resonant hum that is only audible to a chosen few. They call themselves the Hearers, and the fact that fourteen-year-old Kevin Brown has never trusted them makes it all the worse when his own ears begin to ring, and he comes to realize "The Turquoise Hum" may be much more than a sound.
When people ask me which of my own novels is my favorite, I usually answer this one, not because it's the best, but because it's the most personal.
In The Demon Queen and The Locksmith, I took the idea of the intricately plotted suspense as crafted in One Fall, and added a layer of the supernatural on top, creating a unique genre blend I would play around with for the next ten years.
Demon Queen was a semi-finalist for the 2010 Amazon Breakthrough Novel Award, and had a crazy ride in 2011 where one book blogger after another downloaded the book from the Kindle store and raved about it to their readers. When Demon Queen sold 30,000 copies as an indie ebook, it changed my approach to writing, opening my mind to the possibility that I could do this professionally, full-time.
"Ordinary teens become extraordinary in this thrilling tale of good versus evil…Skillfully written, this novel will captivate teens, including reluctant readers." –Publishers Weekly