Spencer Baum grew up reading the classics of late 20th century genre fiction, and though many writers can claim influence on Baum's work, two novelists stand out: Michael Crichton and Stephen King. Those two authors, whose backlists formed the bulk of Spencer's reading material during his teen years, when taken together, drive the best description of Spencer Baum's unique brand of fiction.
Spencer Baum's novels are tightly wound, densely plotted thrillers in the mold of Jurassic Park, written with intense and horrific supernatural elements in a style that invites comparison to Stephen King.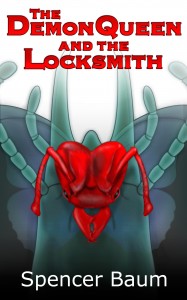 Spencer Baum's early works explore the boundaries of the thriller, finding ways to challenge the reader with unusually dense plots and unconventional settings. His 2008 novel, The Demon Queen and The Locksmith, used the structure of a tightly-wound thriller to hold together a fairy tale built on urban legend and B-movie horror. A monster novel built atop a murder mystery, The Demon Queen and The Locksmith was an early attempt at what would become Baum's signature style. Everything that Baum's fans would later come to identify as distinctive about his work, from the huge action set pieces stretched across multiple chapters to the frank exploration of uncomfortable themes, the idea of the social novel written as thrilling, pageturning supernatural genre fiction–that's what Spencer Baum does, and his first go at it was in Demon Queen.
Demon Queen rode a wave of glowing reviews in what was then known as the blogosphere to sell more than 30,000 copies as an indie book, and was named a semifinalist for the 2010 Amazon Breakthrough Novel Award.
Baum knew he had something original brewing in Demon Queen, but he also knew that the form he was creating wasn't fully realized yet.
In 2011, Baum wrote a short story about a well-to-do family who hosts a teenage vampire as a dinner guest. Thinking the story had potential to be something bigger, he began expanding it into a novel with the working title Girls Wearing Black. A year later, with a burly beast of a story that was nowhere near finished, it was clear to Spencer that Girls Wearing Black wasn't meant to be one novel, but many.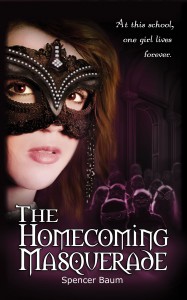 In January 2012, he published the first book in the Girls Wearing Black series, The Homecoming Masquerade. Through positive word of mouth The Homecoming Masquerade found its way onto the category bestseller lists at Amazon and iTunes despite being priced significantly higher than was typical for an indie book. Since its publication, The Homecoming Masquerade has been the #1 seller on Amazon in the categories of Contemporary Fantasy, Vampires, Paranormal, and Urban Fantasy. It has spent time on Amazon's Top 100 overall and has garnered more than two hundred five-star reviews.
Baum published Book 2 in the series, The Festival of the Moon, in October of 2012. Book 3, The Rose Ransom, came out in June of 2013.
It was in the writing of the Girls Wearing Black series that Baum's distinct style became fully honed. Dense plots so intricate that if you remove one sentence the whole thing might come undone, told in stories that move through giant set pieces of action with long scenes of building intensity that leave readers emotionally exhausted — The Festival of the Moon was really the first novel where Baum was mature enough as a writer to pull this off. He has been expanding on this style in every novel since.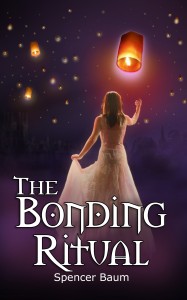 In June 2014, Baum released the fourth and final novel of the Girls Wearing Black series. Titled The Bonding Ritual, the novel is just under 500 pages and wraps up character arcs and storylines he worked on for three years. What started out as a short story about a vampire coming over for dinner eventually became a high stakes epic about young women and men finding the courage to do the right thing, sometimes at great personal cost.
The Girls Wearing Black series became an indie publishing sensation and gave Baum the financial freedom to try THE BIG NOVEL he knew he was ready to write.
The Big Novel took three years and more than 20 drafts to complete.
Its title is The Tetradome Run.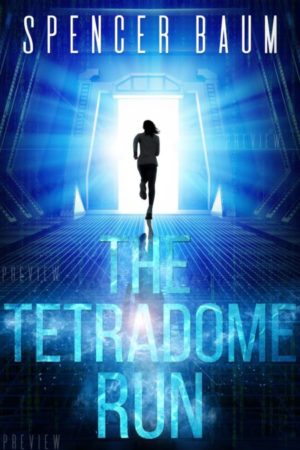 The Tetradome Run is a thriller that puts dystopian tropes in present-day America. At the center of the novel is a dystopian bloodsport that requires convicted criminals to run from monsters in an arena of death.
But there is also a murder mystery, a journalist chasing the tail of an elusive conspiracy, truth hidden in a missing manuscript, and an explosive, Gone Girl-like breakdown of trust among a group of friends and lovers.
The novel's plot is a puzzle, one where each piece that is found reveals two more pieces missing, all of it, of course, built on Baum's signature style of massive, intricately crafted set pieces. The Tetradome Run is structured around 4 big action set pieces of ever-heightening tension, one of them continuously building in maddening suspense for more than 200 pages.
As of the latest update of this bio page (February 2018), The Tetradome Run is out on submission and readers can expect it to be published in 2019. Spencer is already at work on the sequel.