The story of this author begins in Ernie Pyle's garage.
Ernie Pyle was a journalist who covered the American War effort in the 1940s and won the Pulitzer Prize in 1944.
In 1945, Ernie Pyle was killed by a Japanese sniper north of Okinawa. In 1948, per the terms of Ernie Pyle's will, the city of Albuquerque acquired his home and turned it into a public library.
Spencer Baum grew up two blocks away from the Ernie Pyle library. During the summers of his youth, Spencer walked or rode his bike to that library every day. He always entered the old house through the garage which was, and still is, the children's wing of the library.
Beverly Cleary was Spencer's first great discovery at the library, followed by Judy Bloom, Lloyd Alexander, CS Lewis, and Jules Verne. Invasion of the Brain Sharpeners, The Dark is Rising, Island of the Blue Dolphins, A Wrinkle in Time — you know the titles. You have your own list of special books you read as a child. Spencer will always be grateful to Ernie Pyle and his family for providing a place with so many wonderful books for him to find.
As these things usually go, the writing followed the reading. Spencer was writing lengthy bits of fiction by 3rd grade, and trying his hand at novels by his teens. The first novel he wrote that was good enough to put out in the world was one he completed at age 27. It was titled One Fall.
A corporate thriller set in the world of professional wrestling, One Fall found an audience in the burgeoning community of "smart mark" wrestling fans on the Internet, and spent time as the #1 book in Amazon's sports category. In early 2005, Spencer sold the movie rights for One Fall to Brand New Productions in Hollywood (sadly, the movie never happened). Later that year, a promoter in Mississippi, having just read One Fall, invited Spencer to be the lead writer in a new wrestling league he wanted to build (sadly, that league never happened either).
Today, most people who come to One Fall find it via the free, unabridged audiobook available for download as a podcast. As of this writing, the One Fall podcast has more than 150,000 downloads.
Following One Fall, Spencer spent a year trying to write a political novel with the working title Lincoln Versus Roosevelt. Set in the contemporary United States, the novel yanked Abe Lincoln and Franklin Roosevelt out of their own times and placed them in a modern-day presidential campaign, with Lincoln on the Republican ticket and Roosevelt running for the Democrats.
A couple miserable drafts into the writing, all of those drafts painful to write and even more painful to read, Spencer decided Lincoln Versus Roosevelt was not meant to be. This would be the first of two times in his life he spent a year writing a novel that would never be added to his backlist.
He kept writing.
The second novel Spencer published was a young adult fantasy titled The Demon Queen and The Locksmith. The most personal of all his novels, Demon Queen was an extension of the stories he had been writing since 3rd grade. Told from the point of view of a 14-year-old who gets caught up in a war between giant ants and termites, The Demon Queen and The Locksmith is a mash-up of Stephen King, New Mexican urban legend, and 1970s The Bugs Are Attacking movies.
Demon Queen also features a character who, as a child, spends nearly every day at the library.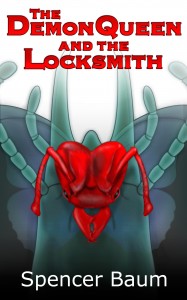 To Spencer, Demon Queen was the culmination of decades of writing, with all the themes he had been exploring since childhood coming together in a fantasy he tried to sell to publishers as "literary and original."
One of the rejection letters he received called it "strange and disturbing."
Spencer self-published Demon Queen in 2008. Young readers loved it. Adult readers found it strange and disturbing. In addition to a war between giant bug monsters, Demon Queen also has scenes where children eat magic tree sap that gives them super powers, espresso machines start talking, vegan hippies from Northern New Mexico turn into ants, and spirits of the dead come to life in flocks of orange butterflies.
Today, Spencer reluctantly agrees with the description in that rejection letter. The Demon Queen and The Locksmith really is a strange and disturbing book. But of all his novels, it's still his favorite. It's his daughter's favorite too. She read it cover to cover in one night when she was eight.
Did you read Demon Queen cover to cover in one day? Spencer is always pleased to learn when readers, young and old, started that book and didn't stop until it was done. He can think of few experiences more pleasurable than starting and finishing a book in the same day, or if it's simply too long to devour in one day, then in a marathon weekend session of late nights followed by dreams about the story. Here's a list of some books he remembers that really caught hold of him when he was young, forcing him to read them from start to finish in a single sitting.
If you have a list of favorite read-in-one-day novels, Spencer would be grateful if you sent it to him so he can read them too!
Now might be a good time to mention that Spencer loves hearing from readers, and is proud that he gets to respond to messages from readers every day. One Fall generates the most reader email for him. That novel isn't flying off the shelves anymore, but whenever it finds the right reader, magic happens. Are you a teen or twenty-something male who doesn't read a lot of fiction but found One Fall, gave it a try, and loved it? You're not alone! Spencer gets messages from people like you every week. It's his favorite thing to hear. So many young men get turned off to reading because Charles Dickens, Jane Austen, and other writers in the high school literary canon just aren't for them, and that's unfortunate, because, to so many of us, there really isn't a greater pleasure in life than reading a book! If you liked One Fall and are wondering what to read next, try The Chocolate War if you're a teen, Bleachers by John Grisham if you want another good sports novel, or Storm Front by Jim Butcher if you're just looking for something exciting and cool.
And, of course, you can email Spencer for more recommendations. His email is spencerbaum75@gmail.com, or you can connect with him on Facebook. People who follow his Facebook page have learned that Spencer is still that kid who likes to go to the library every day, only now the library he attends is Cherry Hills in Albuquerque's Northeast Heights, and the books he likes to read are by Jonathan Franzen, Justin Cronin, Don Delillo, Lauren Beukes, Jonathan Lethem, David Mitchell, Stephen L. Carter, JK Rowling (and her alter ego Robert Galbraith), John Le Carre, Neal Stephenson, Susanna Clarke, and many others.
In 2010, Spencer learned that the Institute for English Language Programs, an ESL program at Harvard University, was using One Fall as a textbook for incoming freshmen. The instructor thought the novel was an example of clear, easy-to-read English he could use as an instructive text for students still learning the language. Spencer eagerly added "Harvard Textbook Author" to his bio. Also during this time, Spencer entered Demon Queen in the Amazon Breakthrough Novel Contest. Demon Queen survived three rounds of cuts, finishing the 2010 contest as a semi-finalist (Top 50 out of 10,000 entries).
Later that year, Spencer wrote a short story about a well-to-do family who hosts a teenage vampire as a dinner guest. Thinking the story had potential to be something bigger, he began expanding it into a novel with the working title Girls Wearing Black. A year later, with a burly beast of a story that was nowhere near finished, it was clear to Spencer that Girls Wearing Black wasn't meant to be one novel, but many.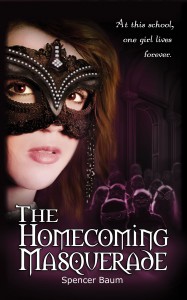 In January 2012, he self-published the first book in the Girls Wearing Black series, The Homecoming Masquerade. Through positive word of mouth (or something — Spencer didn't do any marketing of the book so he's not sure how it happened), The Homecoming Masquerade found its way onto the category bestseller lists at Amazon and iTunes, despite being priced at $5.99, which was significantly higher than was typical for an indie book. Since its publication, The Homecoming Masquerade has been the #1 seller on Amazon in the categories of Contemporary Fantasy, Teens, Vampires, Paranormal, and Urban Fantasy. It has spent time on Amazon's Top 100 overall and has garnered more than a hundred five-star reviews. Odds are good that you, Dear Reader, are here because you just finished reading Homecoming Masquerade. Around 90% of Spencer's sales these days are from the Girls Wearing Black books, and now that all books in the series are out, Spencer has made Homecoming Masquerade free on all retailers.
Spencer published Book 2 in the series, The Festival of the Moon, in October of 2012. Book 3, The Rose Ransom, came out in June of 2013.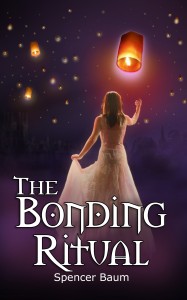 In June 2014, Spencer released the fourth and final novel of the Girls Wearing Black series. Titled The Bonding Ritual, the novel is just under 500 pages and wraps up character arcs and storylines Spencer worked on for three years. What started out as a short story about a vampire coming over for dinner eventually became a high stakes epic about young women and men finding the courage to do the right thing, sometimes at great personal cost.
With the success of Girls Wearing Black, Spencer found himself living the dream, albeit on a small scale. He has never made the NY Times Bestseller list, but he has a rabidly loyal readership that is large enough to keep him and his family fed (most months), and for that, he cannot tell you how grateful he is.
He's also grateful whenever he gets an email or Facebook message asking for writing advice. Although the heyday of Girls Wearing Black sales is now over, there was a time shortly after the publication of Bonding Ritual when Spencer spent at least an hour every day speaking over email to readers about the finer points of his vampire books and the finer points of writing fiction. Those conversations led to the most popular post in the history of this site, the Girls Wearing Black Q & A, which you should check out if you've read all four books in the series.
Those conversations also led Spencer to conclude that the best advice he could give to aspiring writers is the same advice Stephen King gave in On Writing.
Read a lot and write a lot.
Read great books to learn how to write them. Write terrible first drafts and make them better. Accept that there are millions more people who want to write books than there are people to read them, meaning that you probably won't make a living at this without first putting in years or maybe decades of daily effort, and then, if you really want to make a go of being a writer, put in years or decades of daily effort.
Also check out Sense of Style, and anything else by Stephen Pinker. That guy is SMART!
Here are three books that taught Spencer more about writing than any course, seminar, or MFA program ever could:
Dune by Frank Herbert – The one novel, more than any other, that made Spencer want to be a writer. Spencer first read Dune when he was in high school, has read it many times since, and feels like he may spend the entirety of his career trying to match that book's ability to put living, breathing, fascinating humans inside a world that is so spectacular you don't ever want to leave it.
The Harry Potter Series by JK Rowling – Spencer spent the better part of his twenties studying these novels in an effort to understand what alchemy Rowling had unleashed that made the pages turn so easily. By his thirties, he felt like he got the books, only to find even more layers of magic buried in the words when he started reading them aloud to his children. Although he has high praise for all 7 novels, Spencer thinks Book 6 is the best in the series, and the best novel to study if you want to understand how to create a thrilling plot that demands to be read to the end.
The Corrections by Jonathan Franzen – It's become uncouth in some corners to express admiration for Mr. Franzen, who is both controversial and curmudgeonly, but I am and always will be an unapologetic fanboy for his work. For me, The Corrections is the greatest teacher of how beautiful and rewarding fiction can be if the writer has put in the time and effort required to master the craft. And what is the craft? The craft is the ability to use words to express ideas with such clarity that the reader understands and believes the truth of them, like this:
"And when the event, the big change in your life, is simply an insight– isn't that a strange thing? That absolutely nothing changes except that you see things differently and you're less fearful and less anxious and generally stronger as a result: isn't it amazing that a completely invisible thing in your head can feel realer than anything you've experienced before?" — Jonathan Franzen, The Corrections.
In 2014, Spencer wrote a 3-part series for Runtastic, makers of the most popular fitness apps in the world, for their Story Running program. With Story Running, Runtastic users go out for a jog or brisk walk and the app transforms them into the protagonists of high octane stories. In one popular Story Run, the user becomes a convict escaping from Alcatraz. In another, the user gets to race through a magical forest in search of a cure for the illness which is plaguing her tribe.
In Spencer's Story Run, the user becomes a prisoner who is forced to run for his life inside a giant arena where a live crowd cheers as monsters chase him down. Watch the video below for more information about this new kind of storytelling. Spencer's Story Run is titled The Tetradome Run.
The Tetradome Run had its genesis and first draft as a Runtastic Story Run, but the minute he started writing it Spencer knew its final form would be as a novel. Right now Spencer is hard at work on The Tetradome Run, a novel that puts a Hunger Games-like bloodsport in present-day America, forcing the reader to ask herself: What if we already live in dystopia? 
The novel also has a murder mystery, a struggling journalist desperately seeking the truth, a tell-all memoir that's been lost, and an exploration of the uniquely fiery and intense relationships people build in their early twenties.
That is, if Spencer pulls it off. At this point, he should humbly acknowledge that The Tetradome Run is nearing the 2-year mark on the writing, and he knows some readers are growing impatient. To those readers, he once again offers his gratitude for their presence in his life, and also encourages them to check out his Story Runs while they wait. His most recent is The Scorch Trials: Hunted, written in partnership with 20th Century Fox and James Dashner, and set in the universe of The Scorch Trials movie. He also enthusiastically recommends The Passage series by Justin Cronin, which, like Girls Wearing Black, blends the vibes of genre and literary fiction inside a brutal and bloody vampire story.
Updates on Spencer's progress on The Tetradome Run, as well as photos from some of his writing locations and frequent thoughts on books and reading happen on Spencer's Facebook page. Check it out if you want to stay in touch.
And thanks for being a reader!