I am always grateful to receive questions about my next book. To any and all of you who have sent me emails about when the next novel is coming: Thank you for asking!
My next novel will be titled The Tetradome Run. If I self-publish the novel, as I've done with my last seven, this will be the cover: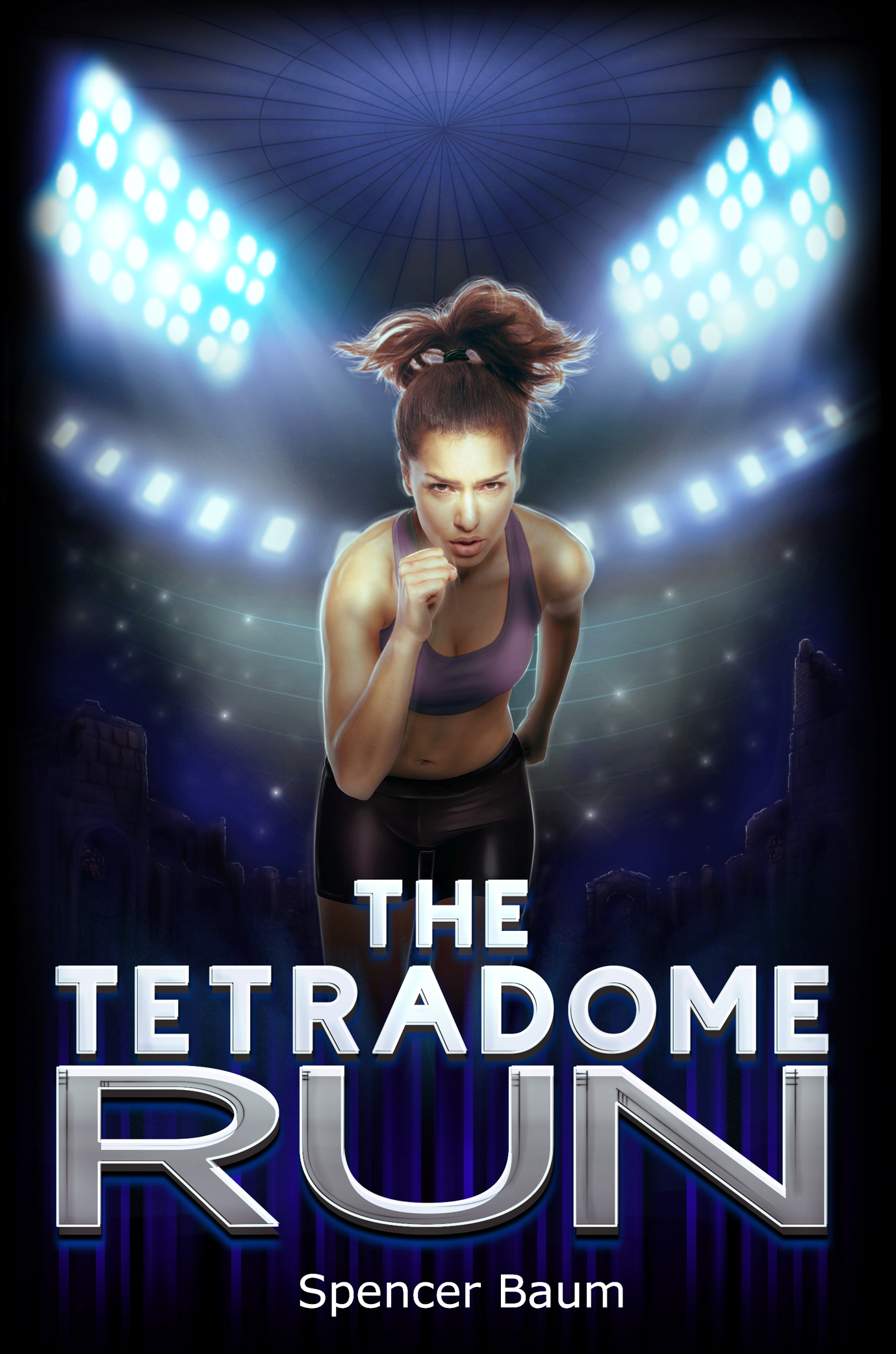 However, I might not self-publish this novel. More on that later. First, here's a blurb.
What if we already live in dystopia?
How far removed are mass media spectacles like the Super Bowl and a presidential primary starring Donald Trump from the televised bloodsports of dystopian literature?
The Tetradome Run places a Hunger Games-like sporting event in present-day America, and finds our gossip-driven, celebrity-obsessed culture eager to watch.
This year's show puts convicted felons on a series of obstacle courses that are filled with death traps and genetically engineered monstrous creations. Superstar felons competing include: Nathan Cavanaugh, who committed a dastardly act of domestic terrorism; Robin Hightower, who murdered her cheating husband; and Jenna Duvall, a college sophomore who became a media sensation when she was found guilty of a high profile murder.
As our star felons careen through six weeks of televised mayhem, a reporter named Gabe Chancellor becomes skeptical of the narrative about Jenna's crime, and finds that the truth of her case is connected to a larger truth about the Tetradome Run, a truth that may have explosive consequences.
So When Does It Come Out?
The Tetradome Run doesn't have a release date yet. I am deep into the writing on this book, and love how it's coming together, but I am not ready to tell you when it will be for sale. As soon as I am ready, I'll post updates here and to the Facebook page.
But there is a story set in The Tetradome Run universe available for you to download and listen to now. Keep reading to learn more.
Story Running – The New Storytelling Platform Where The Tetradome Run Began
In autumn of 2013, Runtastic, makers of the most popular fitness apps in the world, unveiled a new feature in their flagship app. Called Story Running, this feature transforms ordinary exercise sessions into exciting adventures of the imagination.
Over the past two years, I've had the privilege of being an author in Runtastic's Story Running program. Together with other authors from around the world, we've created audio adventures that allow runners to imagine themselves escaping from prison, rushing through a fairy-infested forest, and pounding the pavement in exotic cities around the world. Last fall, I partnered with Runtastic, 20th Century Fox, and James Dashner to create an audio adventure set in the universe of The Maze Runner movies to coincide with the release of The Scorch Trials.
And, in 2014, I wrote a a dystopian thriller where you, the user, must run for your life in front of a live audience.
Watch the video below to learn more.
The Tetradome Run was my first experience with Story Running feature. I used it in my first ever 5k run. I'm completely HOOKED on the story running. It kept my mind occupied while I ran and I didn't even think about my legs hurting or my breathing. — Runtastic User Commenting on their Blog
From Story Run to Novel
My mind alive with possibilities for a much larger, much more intricate story in this new universe I created, in summer 2014 I set out to write a novel about The Tetradome Run.
And I chose to set this novel in the present, throwing the familiar trope of Dystopian Bloodsport Gameshow in modern-day America.
Bringing familiar elements from dystopian fiction into present-day America turned out to be a fruitful and fun. Amidst a plot of mystery and adventure, the novel forces the reader ask herself how far removed our own society really is from popular visions of post-apocalyptic fantasy.
When you read the novel, it is my hope that you'll not only be engrossed in the story, but you'll also be asking yourself some hard questions about America's justice and prison systems, its rising plutocracy, and the way reality TV and social media encourage us to treat the misery of real people as entertainment.
And now, to paraphrase the most frequent category of email I get: "That's great…BUT WHEN DOES THE BOOK COME OUT???"
After more than two years of work I am finished with primary writing and editing on this novel. If I were to publish this novel the same way I did the last seven (self-published direct to retailers), the book would be for sale sometime in the next few months.
But I may not self-publish this novel.
Indie publishing has been good to me, and it's entirely possible that indie publishing remains the best route for me going forward. However, over the past two years, while I've had my head buried in the work of creating this novel, the eReader has become normalized as part of the larger book market, and the Wild West days of indie publishing have come to an end. To my eyes, the independent eBook market has largely become a space for genre fiction, and The Tetradome Run, as a crossover novel, may be better suited for release with a traditional publisher.
I am speaking with publishing industry professionals right now. If I do decide to do traditional publication, the book likely wouldn't be released for at least a year.
I will continue to post updates on this site and on the Facebook page. As soon as I know when the book will be released, you'll know!
Until then, download Runtastic and get the Story Runs! And, as always, you should feel free to send me an email if you want to talk about my books or anything else!